Martin Luther King Jr Day 2021
When is Martin Luther King Jr Day 2021 (happy mlk day 2021) Monday January 18, 2021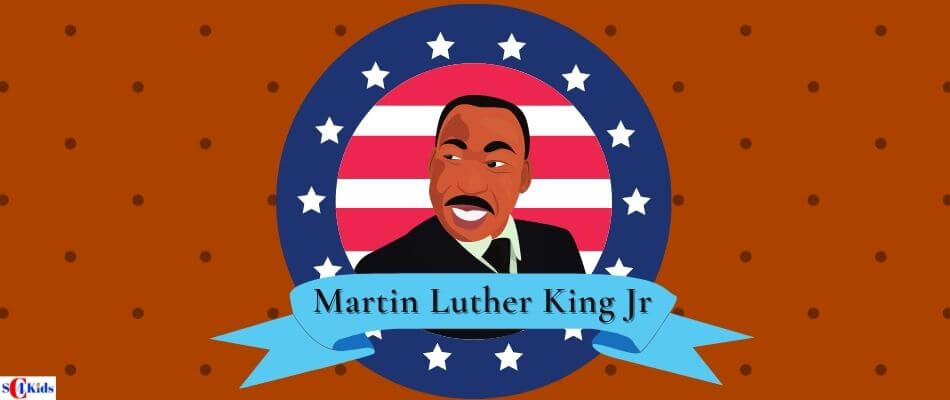 The third Monday in January is celebrated as Martin Luther King Jr Day. It is also known as "MLK Day." It has been a federal holiday since 1986. This means that it is an observed holiday for federal employees and many schools and businesses.
Martin Luther King Jr Personal Information
Birth Date: January 15, 1929
Death Date: April 4, 1968
Birth Place: Atlanta, Georgia
Birth Name: Michael King Jr.
Father: Martin Luther King Sr., Baptist minister
Mother: Alberta (Williams) King
Marriage: Coretta Scott King (June 18, 1953 – April 4, 1968, his death)
Children: Bernice, March 28, 1963; Dexter, January 30, 1961; Martin III, October 23, 1957; Yolanda, November 17, 1955
Education: Morehouse College, B.A., 1948; Crozer Theological Seminary, B.D., 1951; Boston University, Ph.D., 1955
Martin Luther King Jr - Biography
Who was Martin Luther King Jr.?
Martin Luther King, Jr. was born on January 15, 1929, in Atlanta, Georgia. He was a Baptist minister and social activist in the 1950s and 1960s. MLK played an important role in fighting for the rights of all people, including African Americans.
He hoped that America and the rest of the world could become a colorful society, where the race would not affect anyone's civil rights.
Early Life of Martin Luther King Jr
Martin Luther King Jr lived in Atlanta, Georgia, with his parents, Reverend Martin Luther King Sr. and Alberta Williams King, his grandparents, and his two siblings, Christine and Alfred Daniel Williams King.
When he was growing up, Martin faced problems in his community. Once Martin and his father went to buy shoes. But due to their color, they were being told to go to the back of the store. The store owner said to them, "We do not serve colored in the front of the store." Martin and his father moved out of the store, knowing that this was not respectful treatment.
Some white neighbors wouldn't let their kids play with Martin because he was black. Blacks and people of other races were not allowed to go to the same school as white students.
There were segregated businesses, schools, restrooms, and even segregated water fountains.
What is Segregation?
Segregation is the separation of people based on their color, race, culture, religion, or other reason.
Education of Martin Luther King Jr
Martin Luther King's education started at the age of 5. The young MLK attended David T. Howard Elementary School in Atlanta was five years old, but the starting age was six, so he had to return the next year.
MLK Jr. went to Booker T. Washington High School. He was a genius that he skipped two grades in high school (1st and last year).
He started his college education at Morehouse College when he was just 15 years old. After getting his Bachelor of Arts degree in sociology from Morehouse in 1948, Martin got a divinity degree from Crozer Seminary. In 1955 MLK became Dr. Martin Luther King when he earned his Ph.D. in theology from Boston University.
How did MLK get involved in civil rights?
In his first major civil rights action, E.D. Nixon, head of the local NAACP chapter and other local civil rights leaders elected Martin Luther King, Jr. to lead the Montgomery Bus Boycott.
On December 1, 1955, a 42-year-old Rosa Parks boarded the Cleveland Avenue bus. She sat in the first row of the "colored" section in the middle of the bus. After a while, there were several white men standing and demanded the seats but Rosa Parks refused to give up her seat. As a result Rosa Parks was arrested and booked for violating the Montgomery City Code. In his first speech as the group's president, King declared, "We have no alternative but to protest".
Famous MLK speech "I Have a Dream" speech?
On August 28, 1963, Martin Luther King, Jr. and his supporters helped to organize the historic March on Washington.
More than 250,000 people attended this event in an effort to show the importance of civil rights legislation. It was here that King made his famous "I Have a Dream" speech.
The March on Washington was a great success. The Civil Rights Act was passed a year later in 1964, authorizing the federal government to enforce desegregation of public accommodations and outlawing discrimination in publicly owned facilities. This also led to MLK receiving the Nobel Peace Prize in 1964.
Where Was MLK, Jr. Assassinated?
April 4, 1968
On the evening of April 4, 1968, Martin Luther King was assassinated. He was fatally shot while standing on the balcony of a motel in Memphis, where MLK was to lead a protest march in sympathy with striking sanitation workers.
In 1983 President Ronald Reagan signed a bill creating a U.S. federal holiday in honor of King. On the third Monday of January, Martin Luther King Day was first celebrated in 1986.
Martin Luther King Jr Facts
FACT 1. King's real birth name was 'Michael' not 'Martin'.
In 1934, King Jr's father, Michael King Sr, traveled to Germany and became inspired by  the teachings of 116th-century religious thinker Martin Luther. As a result, King Sr. changed his own name as well as that of his 5-year-old son – Martin Luther King. (reference link is at the bottom of this article).
FACT 2. King entered college at the age of 15.
He skipped grades 9 and 12 before enrolling at Morehouse College, the alma mater of his father and maternal grandfather, in 1944.
FACT 3. King got a C in public speaking at seminary school.
In his first year of seminary school in Chester, Pennsylvania, King got a C in a public speaking course. But by his final year, King was receiving straight A's and had become the valedictorian of his class.
FACT 4. Won a Nobel Peace Prize.
He skipped grades 9 and 12 before enrolling at Morehouse College, the alma mater of his father and maternal grandfather, in 1944. (reference link is at the bottom of this article).
FACT 5. He was a Grammy award winner. In 1971, Dr. King earned a Grammy nod for Best Spoken Word Album for "Why I Oppose the War in Vietnam."
FACT 6. King was heavily influenced by Mahatma Gandhi.
One of his main influences was Mohandas Karamchand Gandhi who taught people to protest in a non-violent activism. He visited Mahatma Gandhi's (known as Mahatma, "great soul") birthplace in India.
King's mentor "Bayard Rustin" (African American civil rights activist) had studied Gandhi's teachings. Bayard Rustin counseled him to dedicate himself to the principles of nonviolence.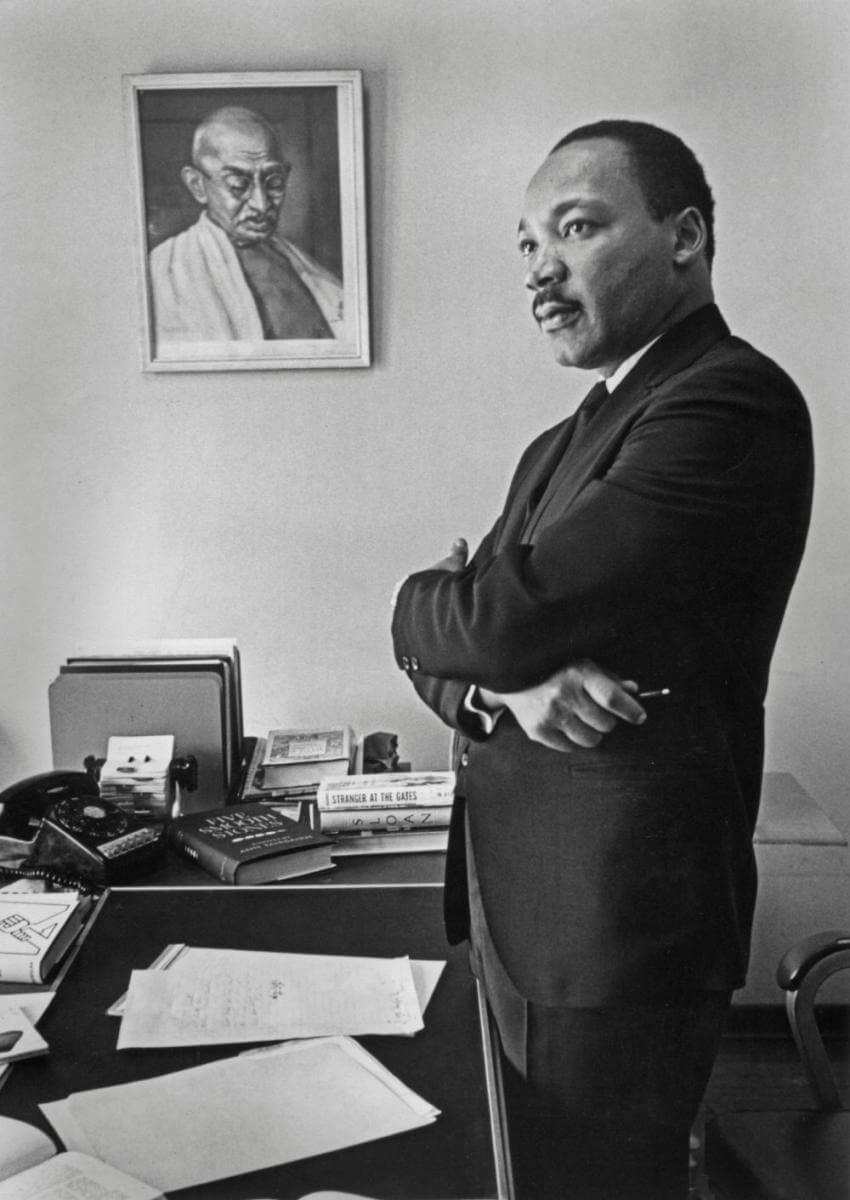 FACT 7. MLK narrowly escaped an assassination attempt a decade before his death.
On September 20, 1958, King was in Harlem signing copies of his new book, "Stride Toward Freedom," in Blumstein's department store when he was approached by Izola Ware Curry. The woman asked if he was Martin Luther King Jr. After he said yes, Curry said, "I've been looking for you for five years," and she plunged a seven-inch letter opener into his chest.
The tip of the blade came to rest alongside his aorta, and MLK underwent hours of delicate emergency surgery. Surgeons later told King that just one sneeze could have punctured the aorta and killed him.
From his hospital bed where he convalesced for weeks, King issued a statement affirming his nonviolent principles and saying he felt no ill will toward his mentally ill attacker. (source)
FACT 8. The civil rights leader was arrested 29 times and assaulted four times.
FACT 9. King was awarded 20 honorary degrees and was named 'Man of the Year' by Time magazine.
FACT 10. On April 4, 1968, Martin Luther King Jr. was assassinated in Memphis, Tennessee. He was shot by James Earl Ray
FACT 11. King's favorite song was "Take My hand, Precious Lord." The song was sung at his funeral by his friend, Mahalia Jackson.
FACT 12. MLK is the only non-president to have a national holiday in his name, and is the only non-president with a memorial on the National Mall in Washington, D.C.
FACT 13. There are approximately 900 streets named after MLK in the United States, 122 of which in his birth state Georgia alone.
FACT 14. His mother was also murdered by a gunman. On June 30, 1974, after 6 years of MLK assassination, his mother was gunned down in the Ebenezer Baptist Church in Atlanta.
FACT 15. After his death, King was awarded the Presidential Medal of Freedom in 1977, and the Congressional Gold Medal in 2004.
Martin Luther King Jr Quotes
"We must learn to live together as brothers or perish together as fools."
"Human progress is neither automatic nor inevitable…Every step toward the goal of justice requires sacrifice, suffering, and struggle; the tireless exertions and passionate concern of dedicated individuals."
"Faith is taking the first step even when you don't see the whole staircase."
"Darkness cannot drive out darkness; only light can do that. Hate cannot drive out hate; only love can do that."
"I have a dream that my four little children will one day live in a nation where they will not be judged by the color of their skin, but by the content of their character."
"Freedom is never voluntarily given by the oppressor; it must be demanded by the oppressed."
"Our lives begin to end the day we become silent about things that matter."
"Nothing in all the world is more dangerous than sincere ignorance and conscientious stupidity."
"One of the greatest casualties of the war in Vietnam is the great society…shot down on the battlefield of Vietnam."
"I refuse to accept the view that mankind is so tragically bound to the starless midnight of racism and war that the bright daybreak of peace and brotherhood can never become a reality…I believe that unarmed truth and unconditional love will have the final word."
ALSO READ THESE POPULAR ARTICLES